2020 Winner—Fantasy
𝑸𝑼𝑨𝑵𝑻𝑼𝑴 𝑳𝑬𝑨𝑷
_____________________________________________________________
Written by: Rainie York
Awarded by Pacific Book Awards on June 20, 2020
______________________________________________________________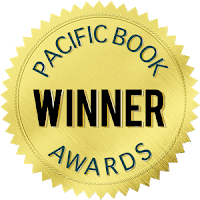 Prior to the Book Awards, reviewer Anthony Avina at Pacific Book Review gave Quantum Leap a STARRED REVIEW for a "Book of Excellent Merit." In his review Avina said, in part:
"This is a fantastic, imaginative and engaging read for Young Adult and Adult readers alike. The story establishes a great fantasy and science fiction-driven narrative."
"An all-consuming . . . and engaging read . . . filled with twists and turns which will keep readers invested to the end. York has created a true masterpiece fantasy and sci-fi read . . ."
______________________________________________________________
Author Rainie York says, "Quantum Leap is not a fantasy book. Unless you think it is."
How can that be?
The English poet, William Blake (1757-1827), is quoted as saying, "What seems to be, IS, to those to whom it seems to be."
Napoleon Hill (1883-1970), author of Think and Grow Rich, said, "Whatever the mind of man can conceive and believe, it can achieve."
Author Scott Turow (1949- ) says, "Who are we, but the stories we tell ourselves about ourselves, and believe?"
Commander Spock, the Spaceship Enterprise, tells Captain Kirk and two other crew members in an episode of the original Star Trek TV series, "You must believe; really believe." They are in an alternate reality simulating Tombstone, Arizona, in 1881, specifically the gunfight at the OK Corral. Spock has surmised that events they have been experiencing are merely illusion, made real only by the crew's belief in them. In order for the Earps' bullets to not kill the Enterprise crew, they must believe ABSOLUTELY that this is so. This episode begs the question, "What did the Star Trek writers and Gene Roddenberry believe?"
Gene Roddenberry, screenwriter and creator of the Star Trek TV series, said, "There are a few things I firmly believe, and a few things I don't believe at all, but in between there is a vast range of things I wonder about, and that's what makes life interesting."
Available at Amazon.com and Barnes & Noble.com